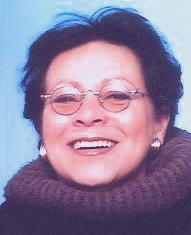 Autodidact. Zuidamerikaans van origine en al meer dan 35 jaar woonachtig in Nederland. Ik studeerde af (Baccalaureaat) aan Marymount International School in Barranquilla (Col) en Tarrytown (USA) waar ik mijn passie voor het aquarel medium begon te ontwikkelen.
In 1986 kreeg ik begeleiding van Kitty Mulder wiens techniek mij bijzonder aansprak. Later kreeg ik les van twee gerenommerde aquarellisten Ron Ranson in Engeland in Londen, en Frank Webb (AWS) in America, White Plains. Ook aquarel sessies gevolgd met Bob Tomanovic in Den Haag. Ondanks deze begeleiding zie ik mijzelf als autodidact.
Bloemen en de transparante Hollandse hemels met soms bedreigende wolken zijn een bron van inspiratie en mijn favoriete onderwerpen.
Mij werk bevindt zich onder andere in particulier bezit in binnen- en buitenland.
1993 - 1996 AWC American Watercolor Society, Associate Member
2005 - 2008 Lid van van het Europees Aquarel Instituut, te Brussel
(ENGLISH)
Autodidact, passionated watercolourist, graduated from Marymount International School, Barranquilla, Colombia.
Sinds 1975 I live and work in The Netherlands.
The beauty of the Dutch landscapes with its spectacular skies and horizons and its unpredictable, impressive atmospherical changes is a fascination to my eye and a constant source of inspiration, as it is the beauty of flowers.
With my floral impressions I intend not to make photographical reproduction of flowers but, instead, I imaging them. And then I let the eye of the spectator see what I want him to see how I interpret, in my very own way, the beauty of florals in the magic world of watercolour.
With no sketches or previous pencils lines, I prefer to work directly onto the paper just like flirting with the brush, water and some color. My favorite themes are:
Florals
Dutch landscapes -horizons, skies, clouds-
Also semi-abstract works on paper.
I prefer to work in big formates. But I also work in small to normal formate.
Work assignment is possible.
WORSHOPS: Frank WEBB, AWS, White Plains, N.,Y. USA
Ron RANSON, London, England
Panting Sessions with Tom Tomanovic, The Hague